Remember you found this company at Infoisinfo 120-427077?
---
Address
D17, Ground Floor, Sector 20 Main Road. Noida.. P.C. 201301, New Delhi, New Delhi. Show map
---
---
What you should know about SukhAyurveda
SukhAyurveda (earlier name Nandavanam) is a complete Ayurvedic health centre at Noida (Delhi NCR-India), we have tried to include all the therapeutic methods mentioned in Ayurveda under one roof with abundance of energy and care, we work with each client in creating a lifestyle as per Ayurveda suitable for their circumstances. The team at Sukh Ayurveda is led by Vaidya Ruchi Gulati, a Brachelor of Ayurvedic Medicine and Surgery (B.A.M.S.) and M.D. (Ayurveda) from the Delhi and Rajasthan Universities. Ruchi, who has an experience of over a decade in pure Ayurvedic practise, training and research, owns the clinic. She and her team offer extraordinary service at the clinic as each member is passionate about abundant health and rejuvenation for human beings. Besides Ayurveda, meditation and Yoga sessions at the clinic make it a multi-dimensional healing centre.

'SukhAyurveda', delivers Ayurveda treatment in a professional and consistently reliable manner that sets the definitive benchmark for Ayurveda medical assessment and treatment. We have maintained the classical procedures of healing but at the same time made it suitable for results in our modern lifestyles.

Diseases we Treat

Digestive System
Gastritis
Oesophagitis
Gastro-Oesophageal Reflux Disease
Gastric ulcer
Duodenal ulcer
Enteritis and Colitis
Crohn's Disease
Ulcerative Colitis
Irritable Bowel Syndrome
Constipation
Fissure
Diseases of the liver
Chronic Hepatitis
Cirrhosis of the liver
Alcoholic Liver Disease
Chronic Pancreatitis
Intestinal mal-absorption and Coeliac Disease
Haemorrhoides
Respiratory System
Recurrent Rhinitis, Tonsillitis
Sinusitis
Chronic Bronchitis
Tropical Eosinophilia
Nervous System
Parkinson's Disease
Alzheimer's Disease
Multiple Sclerosis
Migraine Headache
Trigeminal Neuralgia
Peripheral Neuritis
Bell's palsy
Myasthenia Gravis
Muscular Dystrophy
Paralytic syndromes
Endocrine, Nutritional and Metabolic Diseases
Disorders of the thyroid gland
Diabetes Mellitus and its complication like Retinopathy, Neuropathy
Disorders of other endocrine glands
Malnutrition, Nutritional deficiencies
Obesity and other Metabolic disorders
Skin and Subcutaneous Tissue
Dermatitis
Eczema – Flexural Infantile, Intrinsic, Atopic
Neurofibroma
Psoriasis, Pustular Psoriasis, Guttate Psoriasis, Flexural Psoriasis
Pityriasis Rosea
Lichen Planus
Urticaria
Radiation-related disorders of the skin – Sunburn
Alopecia Areata
Acne Vulgaris
Chloasma
Pediatric Diseases
Recurrent respiratory tract infections
Gastrointestinal-related problems like Constipation, Malabsorption Syndrome
Growth and developmental diseases
Mental and Behavioral Disorders
Anxiety
Cognitive Disorder
Drug Dependence Syndrome
Drug withdrawal state
Mood disorders
Stress-related disorders
Neurasthenia
Anorexia Nervosa
Insomnia
Gynaecological Obstetrical Disorders
Menstrual disorers like polymenorrhoea, oligomenorrhoea, menorrhagia, metrorrhagia, dysmenorhoea
PCOD
Infertility
Leucorrhoea
Post menopausal syndrome
Pregnancy related disorders like morning sickness, pedal oedema, BP, stretch marks, uterine and vaginal toning, lactational disorders etc.
Musculoskeletal System and Connective Tissue
Disorders of bone density, Osteoporosis
Ankylosing spondylitis
Cervical spondylitis
Lumbar spondylitis
Rheumatoid arthritis (Amavata)
Osteoarthritis
Gout
Sciatica
Tennis elbow
Carpal tunnel syndrome
Bursitis
Spur
Urogenital Disorders
Urinary calculus
Recurrent UTI
Chronic renal failure
BPH
Circulatory System and Diseases of Blood-Forming Organs
Hypertension
Ischaemic heart diseases
Nutritio
Social networks
Services
SHIRODHARA COMPLETE
OUR SIGNATURE THERAPYTime tested, authentic treatments that gently erase the pressures and stress of the day-to-day life. Refresh and claim your vital energies. Induces calm sleep. Procedure: A therapeutic head and body massage is followed by soothing medicated oils streamed onto forehead and scalp. Time: 75 minutesSHIRODHARA SIMPLEImproves and enhance your mental well-being. Procedure: Hand picked, origically grow herbs from traditional gardens in Kerala are used in medicated oils that are steamed onto your forehead and scalp after a head massage is performed by a trained therapist Time: 30 minutesSHIRODHARA SIMPLEImproves and enhance your mental well-being. Procedure: Hand picked, organically grow herbs, from traditional gardens in Kerala, are used in medicated oils that are steamed onto your forehead and scalp after a head massage is performed by a trained therapist Time: 30 minutesABHYANGAMA proven traditional treatment that relieves you of pain,improves vision ,reverse aging,and nourishes the body.Improved physical tolerance ,blood circuation and a glowing skin put back the zest for life. Procedure:-Medicated oils are used to massage a person's head and body according to his/ her temperament for a unique healing experience. TIME:-60 minutes.ABHYANGAMA proven traditional treatment that relieves you of pain, improves vision, reverse aging, and nourishes the body. Improved physical tolerance, blood circuation and a glowing skin put back the zest for life. Procedure: Medicated oils are used to massage a person's head and body according to its temperament for a unique healing experience. Time: 60 minutesPIZHICHILPrimarily meant as a rejuvenating procedure that promotes inner balance ,this technique also eases joint stiffness. Procedure:-Warm healing oil is poured over the body in a rhythmic pattern. A gentle massage revives the body. TIME:-60 MINUTESPIZHICHILPrimarily meant as a rejuvenating procedure that promotes inner balance, this technique also eases joint stiffness. Procedure: Warm healing oil is poured over the body in a rhythmic pattern. A gentle massage revives the body. Time: 60 minutesTAKRADHARA COMPLETEA holistic treatment for anti-aging,removal of stress and fatigue,nourishment,enhanced physical tolerance,improved blood circulation ,inner balance ,peacefulness, and restful sleep are also some other results of this traditional therapy. Procedure:-A therapeutic head massage followed by body massage is performed with ayurvedic oils. TIME:- 75 minutes.TAKRADHARA COMPLETEA holistic treatment for anti-aging, removal of stress and fatigue, nourishment, enhanced physical tolerance, improved blood circulation. Inner balance, peacefulness, and restful sleep are also some other results of this traditional therapy. Procedure: A therapeutic head massage followed by body massage is performed with ayurvedic oils. Time: 75 minutesTAKRADHARA BASICA simple way to banish fatigue and stress, and promote sound sleep Procedure: The herbal decoction with pure butter milk stream onto the forehead and the scalp. Time: 30 minutesTAKRADHARA BASICA simple way to banish fatigue and stress, and promote sound sleep Procedure: The harbal decoctions are combined with pure butter milk stream onto the forehead and the scalp. Time: 30 minutes
Brands
Vaidyaratnam Oushadhashala Pvt Ltd
Himalaya Drug Company
shri Dhootpapeswar ltd
Dr JRK's Siddha Research and Pharmaceuticals Pvt Ltd
SG Phyto Pharma PvtLtd
Swadeshi Ayurved
Photos and videos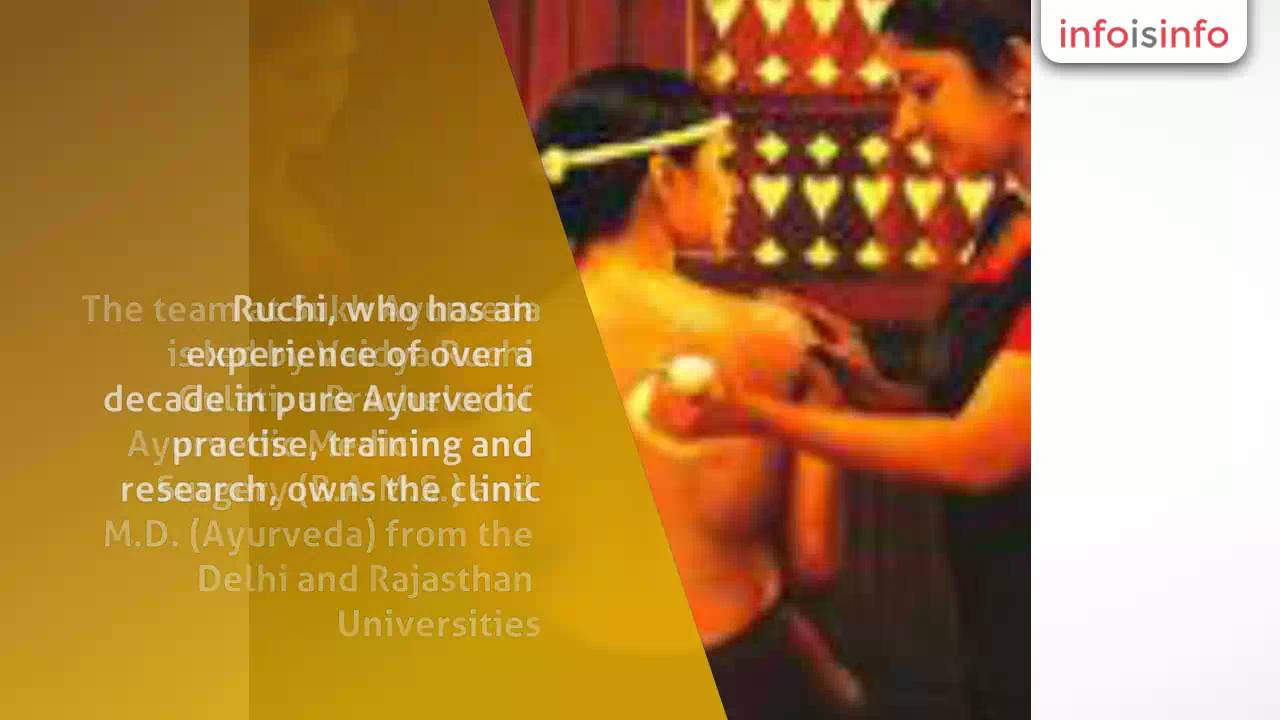 Additional information
Payment methods we use:
Cash
Credit card
Debit card
Bank transfer